Mental Health Relevance in the Workplace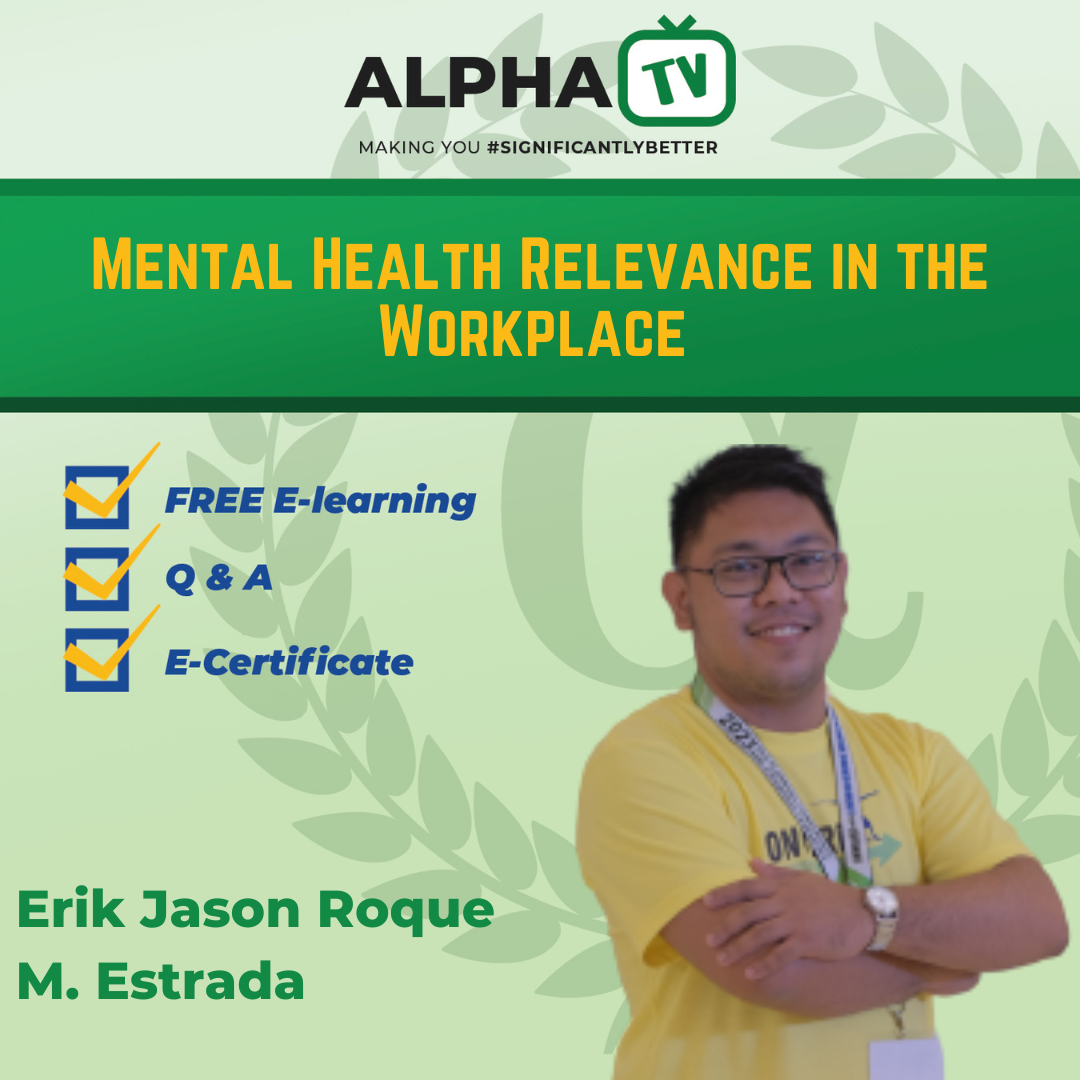 Mental Health Relevance in the Workplace
Date Published
November 15, 2023
Course Updated
November 16, 2023
About the Course
The course will discuss the importance of mental well-being particularly in the workplace. It also explores the focal concepts in crafting mental health programs for the employees and unveils the necessity and nitty gritty of being a mental health advocate.
Course Objective
• To get familiarized with the status of mental health programs
• To discuss the importance of being mentally fit at work
• To demonstrate methods in preparing or crafting mental health programs in the workplace
Course Outline
1. Why is mental health important in the workplace?
2. What plans or programs can an organization or a department can implement towards
mental health?
3. What can be the solution for mental health emergencies? How do we give psychological
first aid?
4. How do we advocate for mental health in the workplace?
Target Participants
• Department Managers
• Business Owners
• Human Resource Specialists
• Aspiring Mental Health Advocates
• Anyone who is interested to join the circle of mental health advocates
Certificate Requirements
Completion of recorded webinar + quiz
Pass the 10 item multiple choice with 80% mark
Comment your feedback to the main page of the course
What is an LMS?
An LMS (Learning Management System) is a software platform designed to manage, deliver, and track educational content and training programs online.
How does an LMS work?
An LMS provides a centralized platform for creating, delivering, and managing learning materials. It offers features like course creation, assessments, communication tools, and progress tracking.
Who can use the LMS?
Our LMS is designed for a wide range of users, including educators, students, trainers, HR professionals, and corporate users seeking to deliver and manage training and educational content.
How do I access courses on the LMS?
After logging in, you'll see a list of available courses on your dashboard. Click on a course to access its content, including modules, videos, assignments, and quizzes.
Can I take courses on any device?
Yes, our LMS is responsive and works on various devices, including desktops, laptops, tablets, and smartphones.
How do I enroll in a course?
If you're a student, your courses might be assigned by an instructor. If you're a corporate user, courses can be assigned by your administrator. Simply click on the course to enroll.
How are assessments conducted?
Assessments can include quizzes, assignments, and exams. You'll find instructions within each course on how to complete them.
How do I track my progress?
Your progress is automatically tracked as you complete modules, quizzes, and assignments. You can view your progress on your dashboard or course page.
I'm having trouble accessing the platform. What should I do?
What if I forget my password or username?
You can use the "Forgot Password" option on the login page to reset your password. If you've forgotten your username, contact our support team for assistance.
Is my personal information safe on the LMS?
We take your privacy seriously. Your personal information is securely stored and used only for educational and administrative purposes in accordance with our privacy policy.
Are my course progress and grades kept private?
Yes, your course progress and grades are confidential and can only be viewed by you, your instructors, and administrators as needed.
Introduction to Technopreneurship
Honing Your Leadership Skills
Analytics 101 for Businesses