Certified Kaizen Professional (CKP)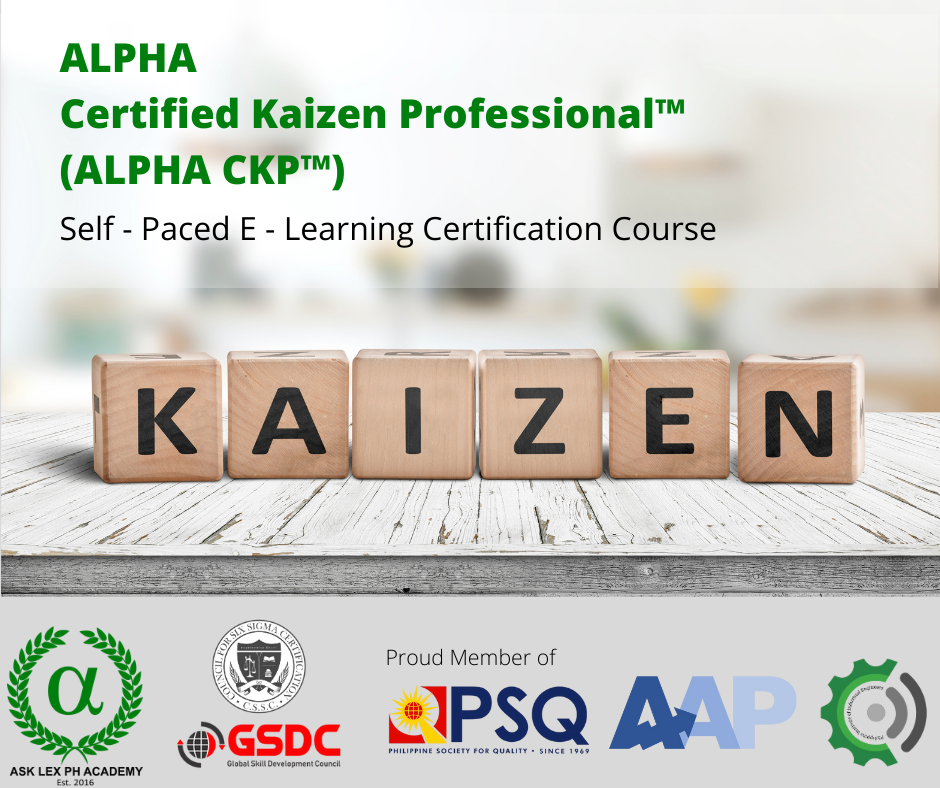 Certified Kaizen Professional (CKP)
Be #significantlybetter with our Internationally Accredited and Recognized Online ALPHA CERTIFIED KAIZEN PROFESSIONAL™ (ALPHA CKP™) Program!
Date Published
August 28, 2023
Course Updated
August 28, 2023
About the Program
The Japanese word "Kaizen" (改 善) means to change (KAI) to become good (ZEN). In this program, participants will be taught of the mindset, tools, and techniques needed to drive continuous improvement in their workplace.
Program Rationale
Participants will learn the fundamental principles and thought processes of Kaizen leading to identifying and defining the right problem/opportunity, measuring the current process performance using the right data, validating the right root causes using data, improving using the right solutions, and sustaining the gains using the right control measures.
Program Objectives
✅ Understand the key concepts of Kaizen
✅ Gain knowledge on the management and practices of Kaizen
✅ Learn how to implement Kaizen activities to eliminate waste and improve the organization's performance
✅ Learn the tools and techniques for problem-solving and improvement
✅ Understand the critical role of management in Kaizen implementation
Target Participants
All levels of employees from staff to executives who want to learn the Kaizen way of solving problems and improving processes.
Certification Requirements
✅ Completion of e-learning module + exercises + quizzes
✅ Pass the 50 items multiple-choice, online proctored Internationally Accredited Certification Examination with at least a 70% mark
✅ Demonstration of proficiency through the submission of an actual Kaizen project done in their workplace
Program Outline
The program is crafted by leading Continuous Improvement practitioners in the Philippines aligned with the American Society for Quality (ASQ) Body of Knowledge (BOK) and Lean Competency Systems (LCS).
I. Introduction to Kaizen
II. Kaizen and Waste
III. Key Concepts of Kaizen
IV. Kaizen Management
V. Kaizen Practices
VI. Kaizen Implementation
VII. Kaizen Story –
VIII. Developing "Kaizen Eyes"
IX. Role of Management
X. Critical Success Factors
XI. Applied Learning Submission
X. Certification Examination
XI. Conferment of Certification
Program Inclusions
✅ Lifetime access to our e-learning course and platform
✅ Kaizen tools and templates
✅ Complimentary courses on Continuous Improvement, Innovation, and Analytics
✅ Examination fee
✅ Certification fee
✅ Electronic certificate (Physical Certificate + ID can be requested once certification is award with additional P500 fee)
✅ Access to our Alumni Network
Program Fees
Regular Rate: P10,000
Discounted Rate: P2,990
Payment Terms
You can pay via e - wallets, online bank transfer or Paypal via the payment gateway during the check out of this course.
No frequently asked questions for this course yet.
Good Manufacturing Practices (GMP) Primer
How Lean Six Sigma Practitioners Think?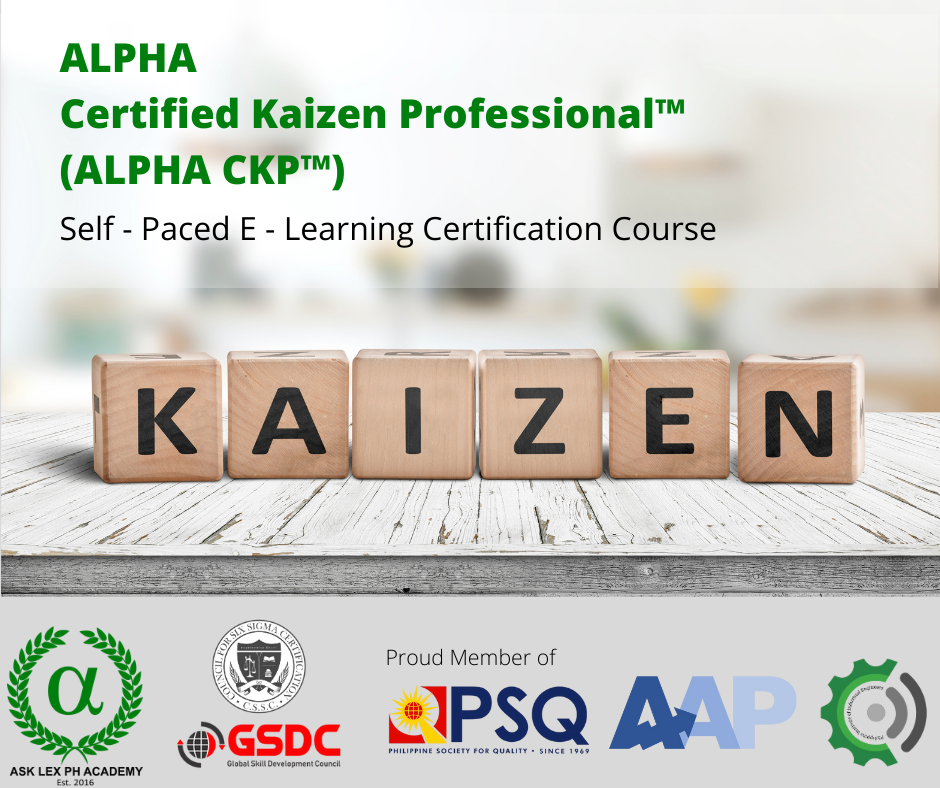 Certified Kaizen Professional (CKP)