Project Management Fundamentals Certification (Sept 2023)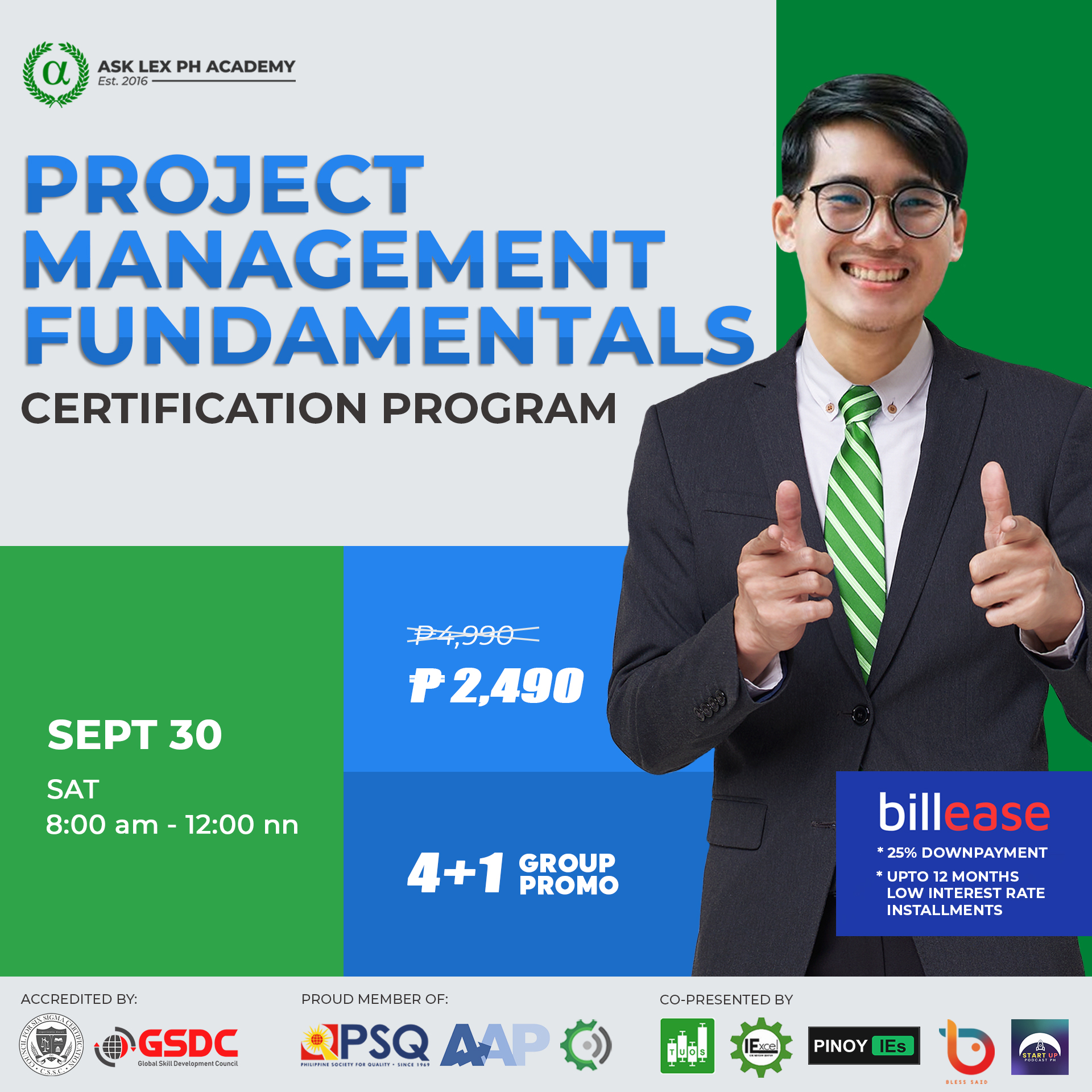 Project Management Fundamentals Certification (Sept 2023)
Event Description
Be #SignificantlyBetter Project Management Professional with our Effective Project Management Masterclass and become Project Management Fundamentals Certified! 📈
About the Program
This online course is designed to help you adopt a strategic mindset and grow confidence in making project decisions in an increasingly volatile and uncertain world. It covers addressing uncertainty and ambiguity when defining and planning projects, assessing and managing risks, and fixing project problems. We'll apply a proven systematic approach to the project management process to facilitate effective and efficient achievement of business objectives.
We will discuss tips, techniques, and strategies to assist this process, including the establishment of a project plan, a risk management strategy, and a stakeholder management strategy for a project.
By the end of this online training course, you will be able to:
✅ Apply the project management approaches to structure and solve business problems
✅ Develop achievable and realistic objectives for projects; understand and manage project priorities and trade-offs strategically
✅ Effectively utilize key project management concepts in stakeholder communications
✅ Apply the key PM tools e.g. scope, work breakdown structure, Gantt chart, project budget, resource histogram, linear responsibility chart, project controls in changing environment
✅ Identify and analyze project risk
✅ Apply effective strategies to address typical project issues
✅ Develop effective strategies to measure and maximize project benefits
Target Participants
This online training course is suitable for a wide range of professionals but will greatly benefit:
✅ Professionals who make or support project decisions and would like to be able to develop and justify effective solutions
✅ Project management professionals and supporting personnel
✅ Internal auditors and management accountants
Certification Requirements
✅ Attend the online live class
✅ Pass the 20 item multiple choice, knowledge check
Program Outline
Amongst a wide range of valuable topics, the following will be prioritized:
✅ Fundamentals of project management and decision analysis
✅ Project initiation and definition; determining project objectives and scope, priorities, and constraints under uncertainty
✅ Problem-solving and decision making during project planning, estimating, and scheduling
✅ Using analytical tools to help make effective decisions under certainty, risk, and uncertainty;
✅ Contemporary concepts in project risk management
✅ Project monitoring and control; Earned Value Analysis
✅ Project leadership
✅ Decision making to address project creeps and time delays
✅ Project Evaluation and Benefit Realization
Learning Investment
Your learning investment includes four (4) hour live online masterclass, e-certificate, and lifetime access to our e-learning system with FREE resources on Continuous Improvement, Innovation and Analytics.
Schedule of Rates
Regular Rate: P4,990
Discounted Introductory Rate: P2,490
Join as a group of five (5) pax but pay for only four (4)
Step #1: Fill up the online registration form above.
Step #2: Pay Registration Fee thru Bank Deposit in any BDO branch or via Online Bank Transaction.
BANK TRANSFER
Account Branch: BDO SM City Lipa
Account Name: AskLex Educational and Review Center
Account Number: 000840577605
G CASH / PAYMAYA
Account Name: Felix Veroya
Account Number: 09155431940
You can also explore our other payment options here https://asklexph.com/payment-terms/.
Step #3: Send the following to info@asklexph.com using the subject ALPHA PMFC - Full Name
– Scanned copy of the deposit slip & 2x2 ID picture with white background
Once you have completed Steps 1 to 3, you will be notified of your successful registration via SMS and/or email within 48 hours.
Event Details
Start Date & Time
Sep 30, 2023 08:00 AM
Finish Date & Time
Sep 30, 2023 12:00 PM
Register Now
Upcoming Events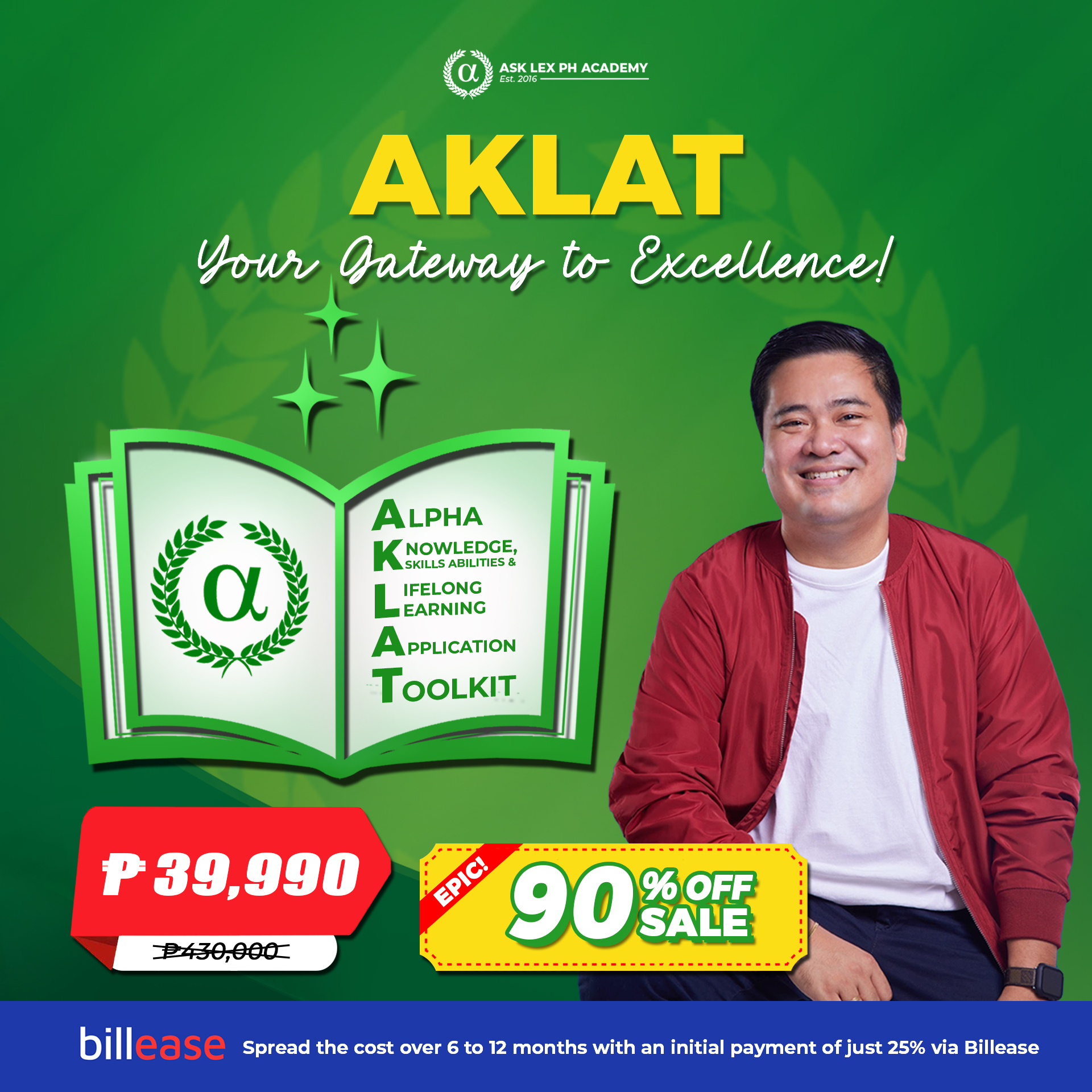 AKLAT 90% Discount Promo
🌟 Unlock Your Potential with Internationally Accredited and Recognized Certifications Through ALPHA AKLAT🌟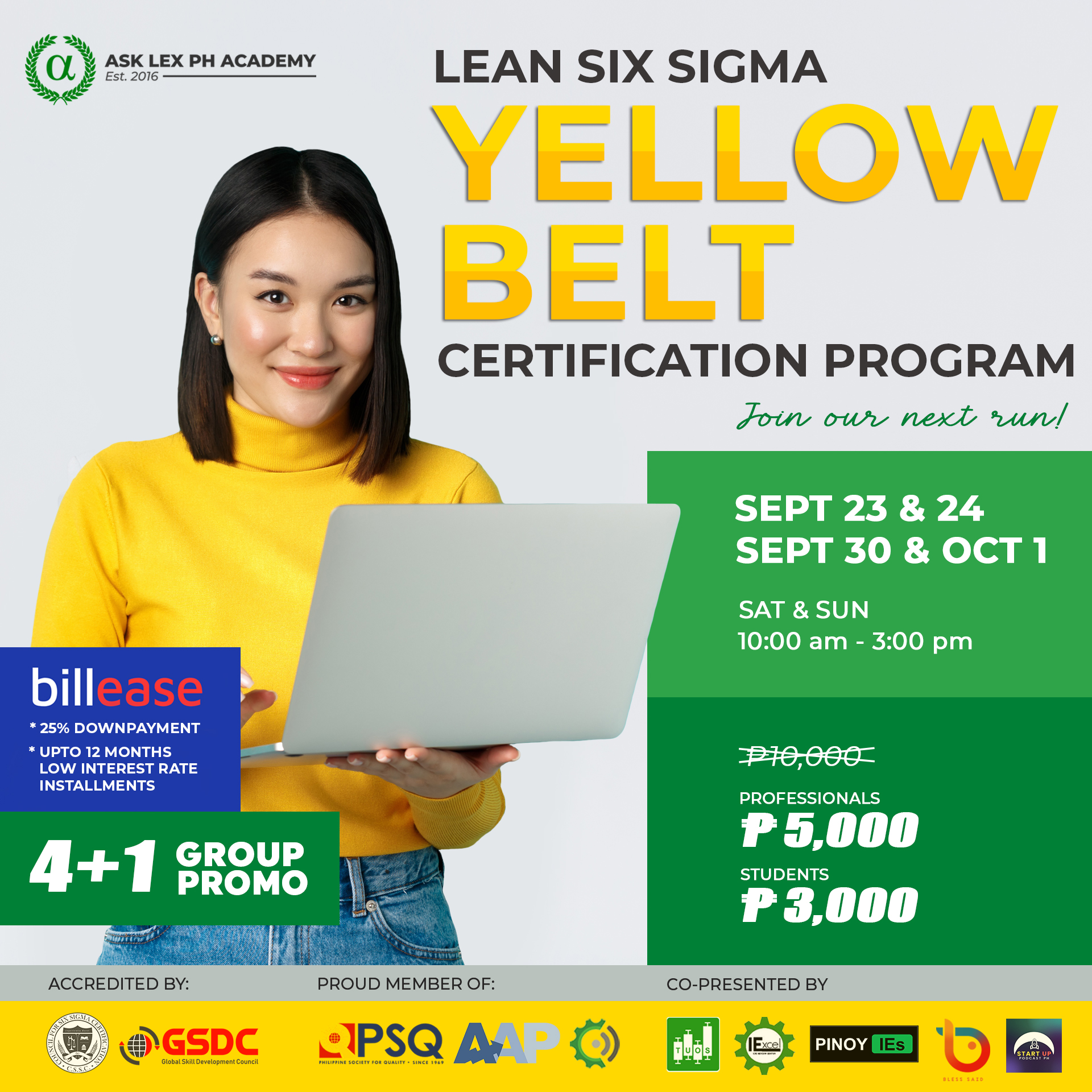 Lean Six Sigma Yellow Belt Certification (Sept & Oct 2023)
Be #significantlybetter with our Internationally Accredited and Recognized Online Lean Six Sigma Yellow Belt Workshop and Certification Program! 📈 Join our next run on September 23, 24, 30 and October 1, 2023 (weekday self paced e-learning + Saturday and Sunday classes, 10 AM to 3 PM with lunch break).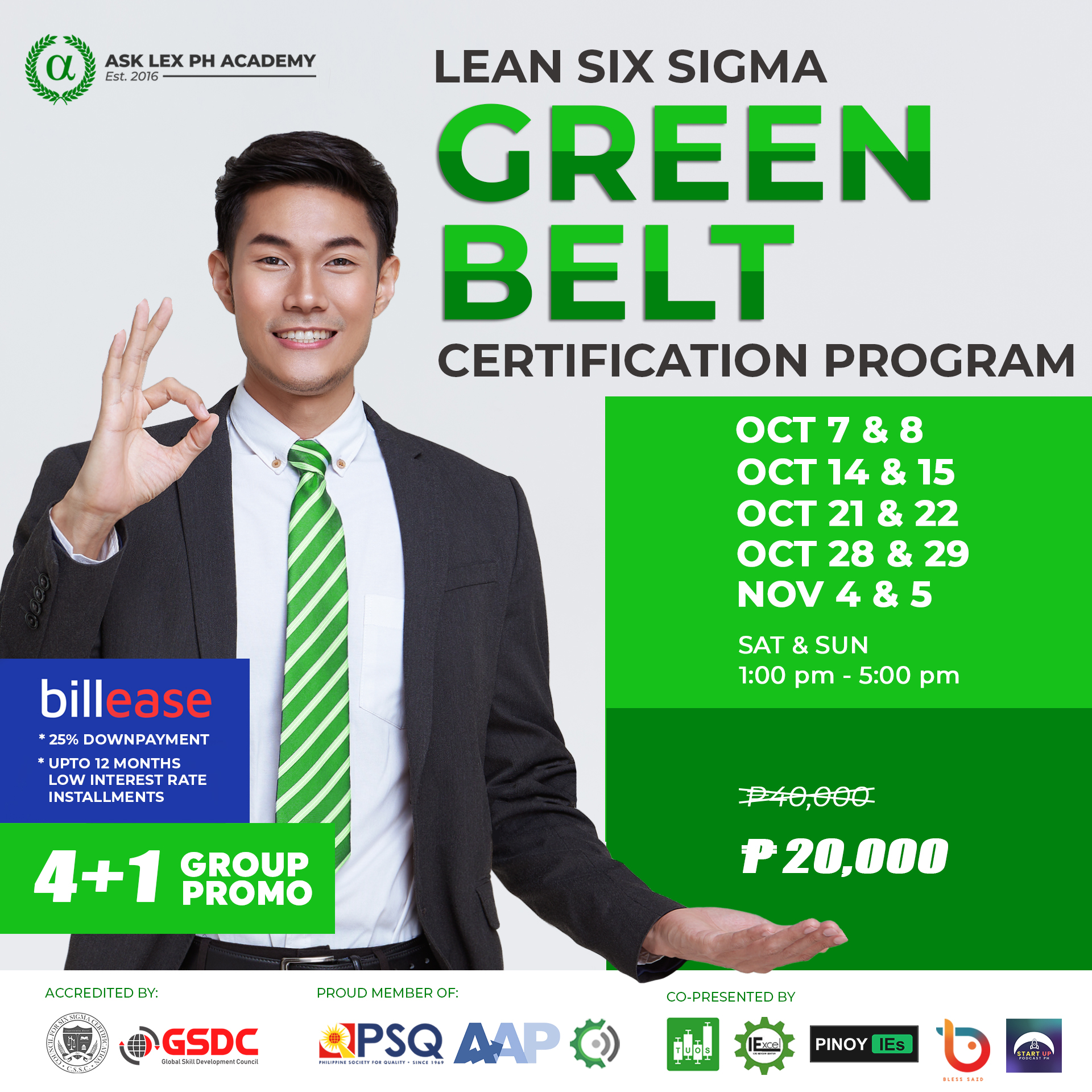 Lean Six Sigma Green Belt Certification (Oct & Nov 2023)
Be #significantlybetter this 2023 with our Internationally Accredited Lean Six Sigma Green Belt Program! Program dates are October 7, 8, 14, 15, 21, 22 and November 4, 5, 2023 (Saturdays and Sundays) | 1:00 PM to 5: PM Philippine Standard Time (GMT+8).
Course related to this event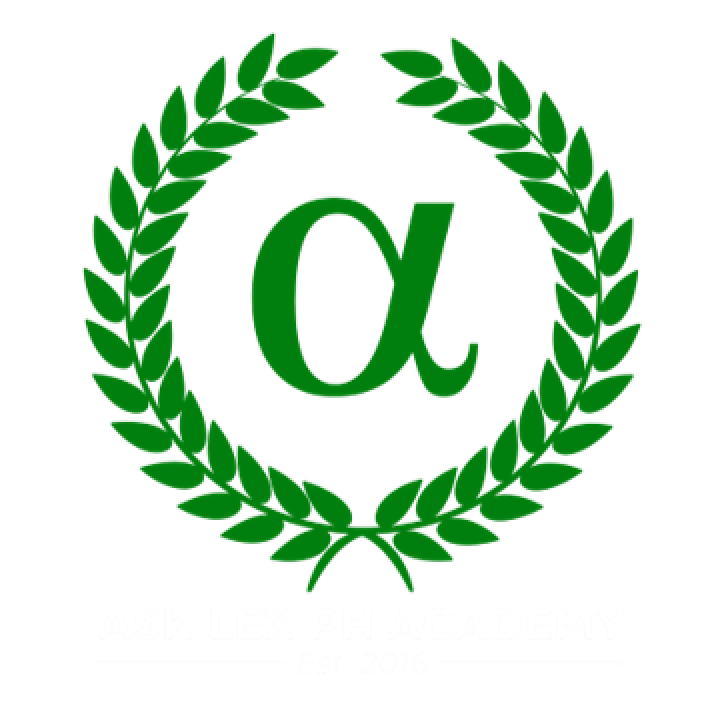 Lean Six Sigma Black Belt
Lean Six Sigma Green Belt Certification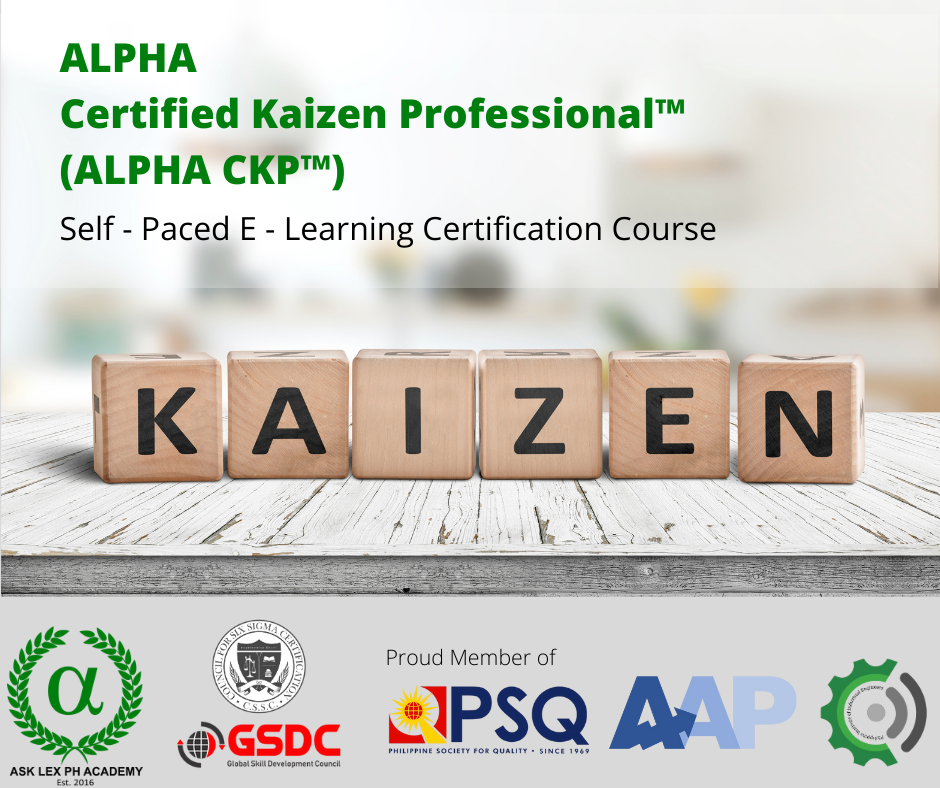 Certified Kaizen Professional (CKP)
Lean Six Sigma Yellow Belt Certification
Project Management Fundamentals Certification (PMFC)
Analytics 101 for Businesses
Application of Data Based Prioritization Tools to Identify Vital Few Factors
Creating The Life You Want: The Power of Success Mindset
Digital Marketing for Beginners
Earned Value Management and Analysis
Foundation of Risk Management: A Primer
Good Manufacturing Practices (GMP) Primer
Graphical Analysis Using Minitab
Honing Your Leadership Skills
How Lean Six Sigma Practitioners Think?
How to Build a Personal Brand on LinkedIn
How to Drive a Culture of Innovation
Introduction to Instructional Design
Introduction to Systems Thinking
Lean Six Sigma White Belt Certification
The ALPHA of Data Science
Time Management: Your Chill Pill for Time Stealers
Tips for Successful Online Learning
Top 5 Skills To Make You #SignificantlyBetter
Turning Creative Ideas to Innovation
Welcome, ALPHA Player. 5AME ON!